facelift
Expert, natural-looking facelifts
Are you interested in renewing your face to achieve a more youthful appearance? Are you bothered by sagging skin on your face and neck, as well as facial wrinkles? If you answered yes, you are not alone. Facelift (rhytidectomy) is a popular cosmetic surgical procedure that can rejuvenate your face. Facelifts are increasing in popularity as the results are longer-lasting than non-surgical procedures, and the results are more dramatic.
Why do women and men desire a facelift?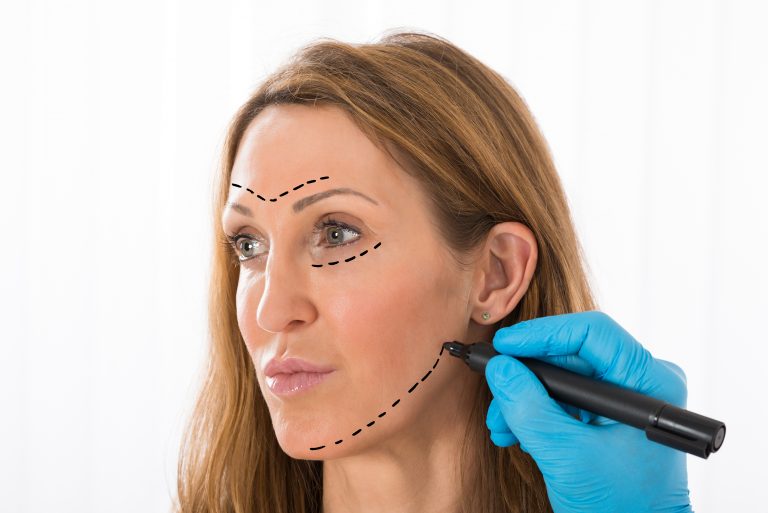 As we are all aware, aging of the face is inevitable as our skin's elasticity begins to lose its' firmness, resulting in sagging skin. This sagging skin is most noticeable around the face and neck. Heredity and environmental factors also play a part in your skin's elasticity and vibrancy.
Many of Dr. Julie Sofer's patients consider having a facelift due to the following factors:
√ Loose and sagging skin
√ Loss of skin elasticity
√ Loss of fat volume causing facial hollowness
√ Loose and sagging jowls
√ Facial creases and wrinkles
√ Sagging skin under eyes
There are various types of facelifts ranging from a full surgical facelift, mini-facelift to a non-surgical "liquid" facelift. Dr. Julie Sofer will discuss your facial renewal goals, examine your face and skin and provide you with a recommendation on your best facial rejuvenation procedure or procedures.
How does Dr. Julie Sofer perform a facelift?
A facelift (rhytidectomy) is a surgical procedure that requires specialized surgical training and expertise where the surgeon repositions (reshapes) the face and removes excess sagging skin. To achieve optimum, natural-looking results, a facelift addresses aging issues with the forehead and eyes.
Dr. Julie Sofer advises her patients that a full surgical facelift is typically performed under general anesthesia where small incisions are made around the hairline, back of the ears and under the chin. Dr. Sofer will advise you if a forehead or neck lift is needed to achieve a restored and rejuvenated facial appearance. Patients may also opt to have eyelid surgery to further improve the look of their face.
Dr. Sofer performs a facelift by carefully separating the facial skin from the patient's underlying tissues. She then precisely repositions the skin and removes any excess skin before small sutures are placed in concealed areas of the face and behind the ears.
There are a number of facelift surgical procedures that can be used including:
High SMAS
SMASectomy
Deep plane
High SMAS
Short scar
MACS lift, and a variety of other techniques.
Dr. Julie Sofer will discuss the most effective technique to accomplish your facial refreshment goals. A facelift is performed in an outpatient surgical center and takes from three to more hours to complete if combined with eyelid and/or brow surgery.
What is the recovery process and what results can I expect from my facelift procedure?
Here at the Center for Cosmetic Surgery, Dr. Sofer counsels her facelift patients to expect some noticeable swelling, but the swelling will go down in two weeks. Patients are up and about doing minimal activities within a few days.
Bruising should also be expected and is not a cause of concern as the bruising and swelling will dissipate. Patients should not expect to return to work until the swelling has gone down.
Surgical skill is required in achieving desirable results, but Dr. Julie Sofer's artistic eye is used to achieve natural (not pulled and plastic) looking results.
Why consider a facelift in Flint, Michigan?
"Dr. Julie Sofer and staff are kind, courteous and experts in Plastic and Reconstructive surgery. Dr. Sofer is an Excellent physician! She has a great bedside manner, and always takes time to listen to my concerns and questions. Since meeting Dr. Sofer and her staff, they have exceeded my expectations. I am very pleased with my care and outcomes! I would definitely recommend Dr. Sofer to my friends and family!
A facelift can help you renew and rejuvenate your facial appearance and help you achieve a more youthful appearance. If you are considering a facelift or another facial rejuvenation procedure, please contact our office to schedule a personalized consultation with Dr. Julie Sofer, call 248-721-9545 today.
Request a Consultation
Please fill out our contact form so that we can schedule your consultation right away.